---
Watch Replay in the above video.
Fifth Sunday of Lent, April 5, 2020 – Orthos – 8:30 am
Fifth Sunday of Lent, April 5, 2020 – Divine Liturgy – 10:00 am



---
Video Replay – Akathist Service
from Friday, April 3, 2020, 5:00 pm
Click HERE to watch the video
Download prayer booklet to follow along
---
Separate but United
"Though the current times have separated us from family, friends and neighbors, we remain united to each other as members of the Body of Christ."
---
---
---
---
Schedule for Upcoming Facebook Live Videos:
Great Compline Service, Wednesday – April 1, 2020, 5:00 pm
Fifth Sunday of Lent Akathist – Friday, April 3, 2020, 5:00 pm
Sunday, March 29, 2020 – Orthos – 8:30 am
Sunday, March 29, 2020 – Divine Liturgy – 10:00 am

Click Here to get to the Church Facebook Page
---
Fourth Salutation to the Theotokos
on Facebook, Friday, March 27, 2020 – REPLAY
---
Watch the replay of the Fourth Salutation to the Theotokos on Facebook
Our Facebook Page link
https://www.facebook.com/Assumption-Greek-Orthodox-Church-262988947072456/?eid=ARCylVrMcNyQ5_CobfiNhJmE3Iu1ryoNBqkUBtN7zy7RAp9QOkXbCy5eNRUsjPfE3Nrh9stcoJPXbqre

The 4th Salutation Service service Link
http://www.agesinitiatives.com/dcs/public/dcs/p/s/2020/03/27/co2/gr-en/se.m03.d28.co2.pdf
---
Coping With the Coronavirus
---
**Assumption Greek Orthodox Church of Madison, Divine Liturgy, Third Sunday of Lent, REPLAY, on Facebook, March 22, 2020**
Watch the Divine Liturgy the Third Sunday of Lent. REPLAY Click here.
---
Message from His Eminence Metropolitan Nathanael

---
A Pastoral Message to the Faithful from Metropolitan Nathanael of Chicago
"While it is difficult for us to comprehend the rate and scale of change happening before our eyes, I remind you that "Jesus Christ is the same yesterday and today and forever." (Heb 13:8). I strongly encourage you, my beloved, to reflect on this biblical verse. The truth is that the Church is eternal, because Christ, our Head, is eternal (Col 1:18). From momentary challenge to an existential crisis, our Church has survived and ultimately thrived over the span of millennia—amidst persecution, plague, invasion, genocide, and war. Because our Church is eternal and Christ is our Savior, we are afforded the strength not merely to cope with the trial that is before us, but to transcend it and be transfigured through it."
–excerpt message from His Eminence Metropolitan Nathanael of Chicago
read more
---
Update to the Faithful Concerning COVID-19 and Liturgical Services
Beloved Metropolis of Chicago family,
As we witness schools, businesses, and other institutions postponing and canceling activities, and as we anxiously await regular updates from public officials concerning the COVID-19 pandemic, I wish to assure you of my prayers and love, as well as to express to you my pastoral blessings and guidance during this time of unease and uncertainty.
As your Metropolitan, I have been blessed with the gift of fatherhood and am called to care for you, your children, your parents, your grandparents, and all of your loved ones. Naturally, this involves rightly teaching the word of God's truth and nourishing you with spiritual sustenance. However, it also requires that I take every step to protect you from physical harm.
With the consent of the Holy Eparchial Synod, following the stringent restrictions on group gatherings being mandated by public officials across the nation, and after consulting infectious disease and other medical experts about COVID-19, I am obliged to take exceptional measures, no matter how difficult and painful they may be, in order to keep you and your loved ones, as well as our neighbors and communities, safe.
In this spirit of care and solidarity, all liturgical services in parishes of the Holy Metropolis of Chicago are suspended effective immediately, until further notice.
Funerals, baptisms, and weddings will be celebrated with immediate family members in attendance only. Services in our two monasteries will only be open to the monastics residing therein. Moreover, all non-liturgical, in-person activities, whether occurring on parish grounds or offsite, are suspended effective immediately until further notice. These include, but are not limited to, catechetical classes, Greek language classes, fellowship, youth ministries, lectures, retreats, parish council meetings, social events, Bible studies, athletics, and Philoptochos meetings.
During this period, the clergy of the Metropolis will continue to minister to you. Additional resources to help you navigate these trying times are available on a special page on the Metropolis website. There, you will find additional useful information, regular updates, and alternate means of enjoying the holy services of the Church. You are also encouraged to submit any questions and concerns to: metropolis@chicago.goarch.org.

Read more

Extending to you my sincere prayers for safety, health, and many years, I remain
With paternal love in Christ,
+Metropolitan Nathanael of Chicago
---
Welcome Fr. Christodoulos!
The Parish Council is pleased to announce that the Very Reverend Archimandrite Christodoulos Margellos has been assigned to our parish as presiding priest efective March 8th.
Fr. Christodoulos is a Minnesota native who has faithfully served several parishes within the Holy Metropolis of Chicago for the past fourteen years. He most recently served at St. Nicholas in Oak Lawn, Illinois. Prior to that he served the parishes of St. George in Rock Island, Illinois, and Saints Constantine and Helen in Merriville, Indiana.
We give thanks to God and to His Eminence Metropolitan Nathanael, for this timely assignment. We are amazed by God's providence in sending us someone whose name ("servant of Christ") reminds us of our identity and calling, and who begins with us on the Sunday of Orthodoxy, to help us proclaim and live our Orthodox Christian faith.
Please join us in warmly welcoming Fr. Christodoulos, and in continuing to pray for him and for the transition.
May our Lord grant Fr. Christodoulos many years in His service!
---
About the Greek Orthodox Metropolis of Chicago
Tracing its roots back to 1923, the Greek Orthodox Metropolis of Chicago is the diocese of Greek Orthodox faithful in Illinois, Iowa, Minnesota, Wisconsin, northern Indiana, and southeastern Missouri, consisting of 58 parishes and two monastic communities. The Metropolis is one of nine regions in the Greek Orthodox Archdiocese of America and is presided over by His Eminence Metropolitan Nathanael. The general offices of the Metropolis are temporarily located in Elk Grove Village, Illinois. For more information and to get involved, visit our website, join a Strategic Planning Team, and sign up to receive Metropolis news.
---
AGOC Part of the East Side Community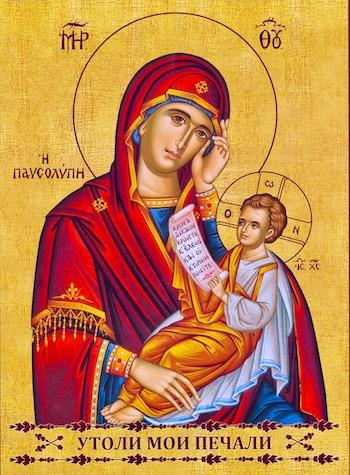 Assumption Greek Orthodox Church is a small but thriving church near the center of Madison, located at 11 N. 7th Street, on the corner facing East Washington Avenue. Today, our church is, in reality a multi-ethnic community which proudly includes many traditionally Eastern Orthodox peoples and their traditions. These groups may include Russians, Serbs, Ukranians, Armenians, Romanians, Croatians, and Arabs. It is a close-knit community that is growing as many people in the Madison discover its rich history and moving services and contributing ministries. We invite you to come see our Church. The beautiful tradition of the Divine Liturgy, the icons that make the building a priceless work of art, the soaring angelic voices of the choir, the warm and hospitable people, will all welcome you with open arms to a truly holy experience.
---
A Brief Introduction to the Orthodox Church
If you are unfamiliar with Orthodox Christianity, here is a little background information.
The Orthodox Church has her origin with Jesus Christ and the Holy Spirit, not with a human teacher, or group, nor a code of conduct or religious philosophy. Orthodoxy believes that the Church has her origin in the Apostolic Community called into being by Jesus Christ, and enlivened by the Holy Spirit. The Feast of Pentecost, which is celebrated fifty days after Easter, commemorates the "outpouring" of the Holy Spirit upon the Apostles and marks the beginning of the mission of the Church to the world. We are Orthodox because our tradition of prayer and worship is rooted in the One, Holy, Catholic, and Apostolic undivided Church. The Orthodox Church was founded by Christ through the Apostles and has maintained a living, historical connection with the Apostolic Church through the ordination of its clergy. The bishop that ordains an Orthodox priest today can trace his ordination historically all the way back to the Apostles, and through them to Christ. For this reason we are "apostolic" – rooted in the first Apostles – the disciples of Jesus. We are also apostolic because we believe our calling is to go out and share our faith with others. For this reason, we welcome you to visit the Orthodox Christian parish in your neighborhood or town. Although our parishes may carry a designation of Greek Orthodox or Russian Orthodox or some other ethnic identity, this does not imply that you need to be of a certain ethnic origin to join us in worship or to consider becoming an Orthodox Christian.
–Article from Greek Orthodox Diocese of America
---
The Daily Readings App on your mobile device is the easiest way to access the day's Bible readings prescribed by the Lectionary of the Greek Orthodox Church. The Daily Readings App also lets you read the lives of the saints or lookup fasting guidelines for each day right on your device.
Developed by the Greek Orthodox Archdiocese Department of Internet Ministries, there is no better way to carry the Church's prescribed Scripture and devotional reading with you at all times. The Daily Readings App follows the typicon and lectionary of the Ecumenical Patriarchate.
Available Platforms:
---